Get Started
Hello Future.
Wow, it is so nice to see you here!
Finally, Career Pathing Software designed to retain your employees by empowering them to visualize, map, and track their long term careers at your company.
Hello Success.
We knew you would be here!
When you create clear paths for your employees, it encourages them to pursue career goals within your company instead of searching outside. This transparency puts employees in charge of their careers, gives managers the insight to motivate and develop their teams, and creates an empowered workforce that's firing on all cylinders—working toward your highest corporate priorities.
With PathSavvy get ready to:
Discover Hidden Talent within Your Workforce
Increase Retention & Engagement
Empower Employees to Succeed
Maximize Learning & Talent Investments
Equip Managers to Lead & Guide
Hello Results.
We have been expecting you.
Done the right way, career pathing produces powerful results that align with your company's core values, culture, and business drivers so you realize the advantages throughout your organization.
Oh, and it pays for itself if you retain just a few employees!
UX-Focused Design
Make it fun to use! PathSavvy was designed for real employees and real employers, to be easy-to-use and accessible across all devices like smartphones, tablets, and desktop computers. PathSavvy lives up to your expectations delivering on a great visual design and intuitive interface to ensure a connected employee.
The Results
20–25%
Improved Productivity
Productivity improves by 20–25% in organizations with connected employees.
-The McKinsey Global Institute
Career Mapping
Expand your employees' horizons. PathSavvy's powerful mapping tool allows employees to gain awareness of job types and associated transitional and promotional pathways. As a result, employees can see the whole landscape at your organization and how they can move laterally and vertically.
The Results
2.5x
More Revenue
Companies with engagement employees have 2.5x more revenue than companies with low engagement levels.
-HRchitect
Job Matching
Allow employees to do what they do best. PathSavvy's Job Match Engine empowers employees to match their interests, competencies, and education to roles within your company to find the RIGHT fit. As a result, employees are satisfied and engaged at your company.
The Results
25%
Better Satisfaction
25% of employees would be more satisfied at work if they were given the opportunity to do what they do best.
-ClearCompany
Action Plans
Motivate employees to stick around. PathSavvy provides customized plans that outline the learning, training, and experiences that are neccessary for employees to drive their careers and reach their goals. Managers can use Action Plans to have meaningful, results-driven discussions about growth and development.
The Results
42%
Say L&D is Most Important
-Udemy, 2018 Millenials At Work Research Report
Competency Modeling
Figure out what it takes to do the job. PathSavvy includes crowd-sourcing tools to help model competencies across all the jobs at your company, saving time and money while providing a framework to use in any competency-related activity across your organization.
The Results
70%
Less Time
Using Jobs Blueprint to model competencies requires 70% less time than manual approaches.
Insights & Transparency
Be insight-driven! PathSavvy transforms data into insights that reveal workforce trends and gaps that allow you to plan ahead for hiring and training, as well as align your employees with your company's strategic direction. With robust reporting, managers and executives visualize successes and challenges in the workforce.
The Results
8x Faster
Growth by Insight-Driven Orgs
Insight-Driven organizations are growing 8x faster than the global GDP.
-2017 report, Insights-Driven Businesses Set The Pace For Global Growth
Hello Support.
It's good to know you are always there.
Career pathing does not have to be hard. PathSavvy makes it easy with these add-on tools.
Set the Stage
Leverage all your Data
Retain and Grow
Hello Everybody.
Whether you have 25 or 250,000 employees we have you covered.
Small Companies and Teams
Clearly defined career paths with skill and competency gaps
Up-and-running in minutes
Choose your industry and Happy Path does the rest
Simple and clear career pathing
Meaningful job descriptions
Career planning checklists
Customizable for your team
Learn More about Happy Path
Large to Enterprised-Sized Companies
Full-featured career matching, mapping, planning, and reporting
Career matching and pathing
Detailed action plans
Detailed job descriptions
Custom competency model
Integration with HRIS, LMS, and more
Integration with internal and external training
Contact us for a demo
Our Strategic Alliance
PathSavvy was build in partnership between Super Humane and CAEL

Free Career Pathing and Employee Engagement Resources
Hello Everybody!
Whether you have 25 or 250,000 employees we have you covered.
Small Companies and Teams
Clearly defined career paths with skill and competency gaps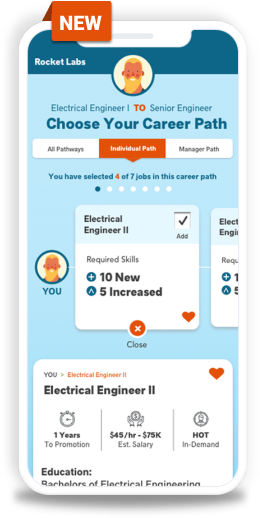 Up-and-running in minutes
Choose your industry and Happy Path does the rest
Simple and clear career pathing
Meaningful job descriptions
Career planning checklists
Customizable for your team
Learn More
Large to Enterprised-Sized Companies
Full-featured career matching, mapping, planning, and reporting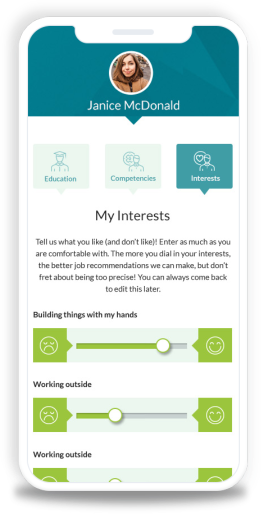 Career matching and pathing
Detailed action plans
Detailed job descriptions
Custom competency model
Integration with HRIS, LMS, and more
Integration with internal and external training
Learn More